We've lived here for 20 days now. I think it's time for a post about life in New Haven.
First, let me tell you about our day-to-day lives. I bike in to campus in the morning (usually arriving between 9 and 9:30). My bike route is about 5 miles and is actually pretty nice. There are two scary sections where traffic is heavy, one that involves freeway on- and off-ramps and another that involves two highly congested intersections in close succession. I have so far found that most people are considerate of bikers on the road. Some even chat out the window at me: "...biking sure keeps everything looking nice." Ok, so that part isn't great, but hey, at least it's complimentary! I know this won't mean much to most of you, but here is my bike route (red is where we live and green is where I work):
My building at Yale is called the Osborn Memorial Laboratories (pictured below). I work on the fifth floor of the left wing (there is a big courtyard out back). Let me tell you, after biking in, it's quite a workout climbing five flights of stairs with my bike over my shoulder. Between that and the two flights of stairs at home I'm going to have calves of steel!
I have also officially started a training schedule for the New York marathon in November (less than 16 weeks away!). So I've been exploring our neighborhood, trying out different running routes. The bad thing is that there are no sidewalks anywhere in the neighborhoods of East Haven as far as I can tell. This wouldn't be terrible except the roads are also very narrow and people also tend to drive too fast. It makes it scary to run with the dogs, or a stroller. But on my own, I have found some pretty nice routes. Here is one example, that I do a lot of variations on. Foxon road is a major thoroughfare, so it's busy and loud and ugly--but it has sidewalks. The other streets are quiet neighborhood streets.
For the runners out there, you may note that there are a few little hills in there. I noticed too. In fact, the route starts with a really steep hill. I've named some of the more "charming" hills on the route, but I think I will abstain from sharing them for those of you with sensitive ears.
Alex has been able to go biking a few times (once his back healed from moving). In fact, last night he discovered a 30-ish mile route that goes by the Thimble Islands:
Apparently the islands are privately owned. Oh to be rich.
While I'm at work, Alex and the kids have been exploring and testing nearby parks, running errands, grocery shopping, and just hanging out.
Beyond day-to-day things, we have managed to get out and have a few adventures. The first weekend here, Beth, Matt, and Meghan came to visit! Aside from lounging at the house...
We're looking forward to having more visitors (hint, hint)!
The next weekend we ventured out to Peters Rock Park which is about two miles from our house and is the proud owner of the highest point in North Haven--a whopping 373 feet! Aside from the pesky mosquitoes, it was a really fun hike, about 2 miles round trip. Abby made it the whole way by herself with minimal complaints! She was really into spotting the trail markers and taking pictures of them with her binoculars.
We reached the top just before sundown. It really was a beautiful view, though I probably spent more time admiring my family than I did admiring the landscape.
Finally, last weekend we went back to the beach, but a little closer to home--about a ten minute drive south. Once Abby got over the smell of the ocean (you can tell what she thought of the smell in the first photo below), she had tons of fun turning over rocks to find snails, crabs, and clams.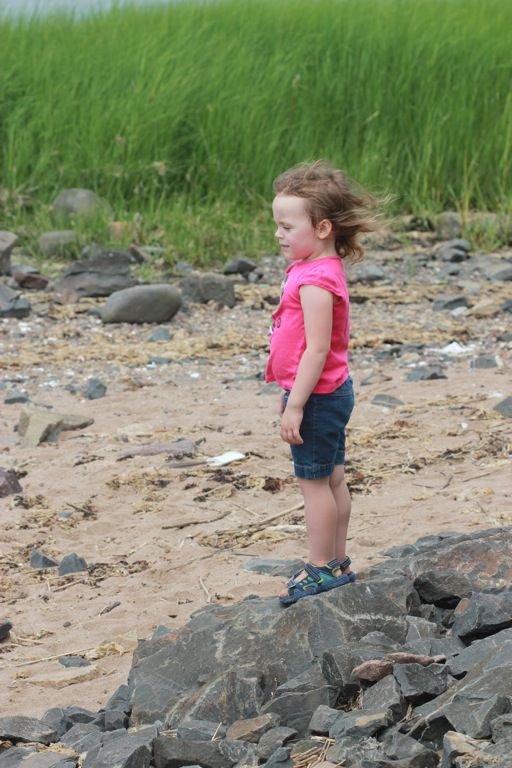 This is the typical size of crabs we found.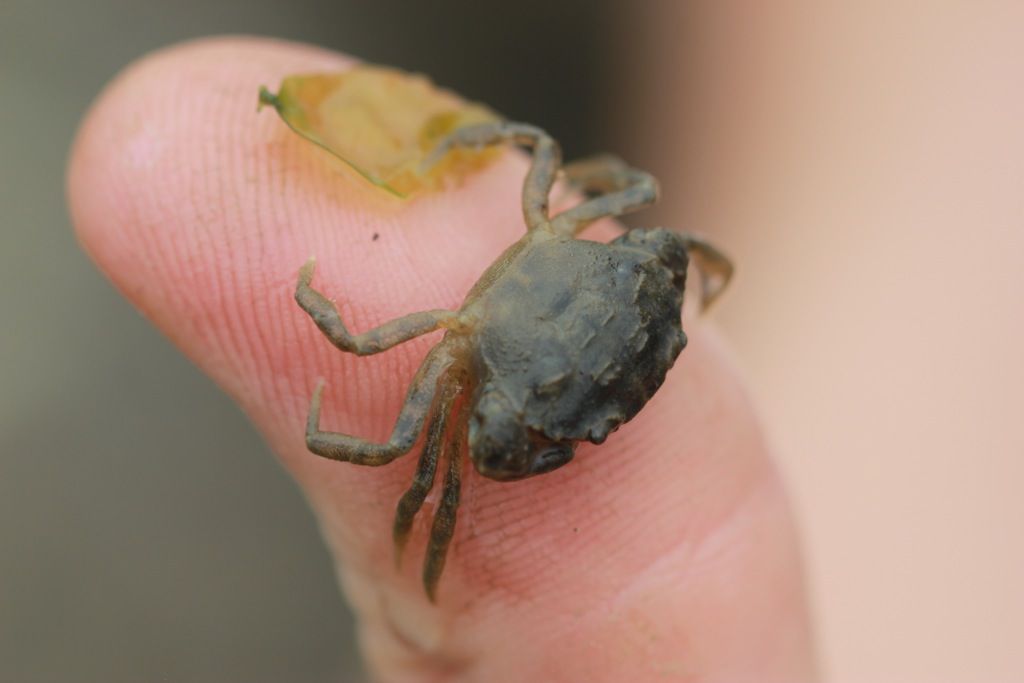 But we did find one big one!
In typical James fashion, this is how he enjoyed the ocean.
I'll try to keep you updated as we continue to explore our new surroundings!