Last weekend wee went CAMPING!! For the SECOND time in a summer! Isn't it amazing?? Maybe next year we can go THREE times. Wouldn't that be a dream come true... But I digress. We left on Friday afternoon and headed up north to the Manistee National Forest. It's that big green chunk on the left (or pinky-side) of the state.
View Larger Map
The larger purpose of the camping trip was to run a trail marathon up in that neck of the woods (the North Country Trail Run). Heather and I signed up for it early in the summer, planning to use it as a training run in preparation for our later marathons in October (she's running Portland and I'm running Grand Rapids). More on that to come.
We camped at a nice little campground next to Sand Lake. Although I miss the mountains of the west, I do love the fact that there are lakes everywhere you turn in Michigan. This lake in particular was perfect for babies and pre-running relaxation. It had a soft sandy beach and the water was cool but not cold. There was a bit of foam along the lake shore that Abby thought was soap suds. She kept squatting down to "Wa" her hands in it.
Saturday morning found Heather and I sneaking around camp at 6 am in the dark, trying to gather our things without waking the sleeping babies. We headed for the trail head at about 6:45, in time for packet pick-up, a few to several pre-run porto-potty visits, and chatting with friends and strangers. The ultra runners (those crazies that signed up to run 50 miles) started at 7:30 and we followed at 8:00. Here is a run down of how the race went for me...
"Ah, feeling good. I love trails. It feels a bit warmer and humider than I'd like. Oh, a bit of a hill. Oh, wow, this hill goes on forever. Jeez, when will this hill end?!! Here comes the sweat drips. Oh my god, those girls are PASSING me on the hill? Whew, the top of the hill. Oh, here goes Heather, speeding by me down the hill. I'll try to keep up. Oh, there she goes, disappearing around that corner. Well, just keep going anyway. Hmmm, there's those girls, passing me again. I'll just stick with them for a bit. Boy, it's pretty warm already. Hey! There's Heather! She looks lost. Yep, she was lost. Glad we found her. Man, this pace is way faster than I should be running. Maybe I should just slow down a bit and go back to my original plan. Not bad, got a nice fellah to talk to behind me--Jeff from Grand Rapids. Ok, mile 10. Not feeling great. It's too warm and muggy. Need some more water and gatorade. Shoot! Look at all those people running by while I get gatorade! I can't get my water bottle lid off! Hey Guy! Can you help me? Whew, got a refill. Now I have to catch up to Jeff. Wait, what did Jeff look like? I never saw him. Is that him? No, sounds different. Is that him? Oh man, not feeling good at all. Why are my shoes squishing? Did I run through a puddle? No. Oh my gosh. It's sweat. My shoes are squishing with sweat. Sigh. This does not bode well. Yeah, not feeling good. Oh crap. There's a cramp in a deeply buried abdominal muscle. Ouch. Oh crap. My arm is cramping. I'd better get more gatorade. Where the heck is the next aid station? Where is everyone else? Why aren't people passing me? Oh there's some guys. Cool. Wait, those are ultra people. I'm running as fast as people that are running twice as far as me. Awesome. Oh crap. There goes my calf. Just keep going. Oh crap. There goes my right quad. Stop and punch it a little, see if that helps. Oh crap. Two girls just passed me. Oh crap. There goes my right quad. Yay! A huge downhill! Oh crap. I can't run fast downhill on crampy quads. Ok. I think I'm in control here. Going slow, but not too bad on the cramping front. Oops! Tripped on a root! Legs cramped! Have to stop and hit them a little. Jeez. And I signed up to run another one of these in a month and a half???!!"
I am happy to report that I managed to finish the race, and I ran the last 3 miles without walking once. I wasn't feeling very happy about the race, but I found a few positive points to focus on. One--I beat my time for the only other marathon I ran (which was a road race in which I also cramped). Two--I ran through the cramps, which I was not able to do in the last marathon. Three--I managed to eke out a third place finish in my age group and 13th overall for women. I'm even happier to report that Heather ran an awesome race (despite getting lost, falling on her face once, and getting stung in the leg) and got first place in her age group and fourth place overall for women.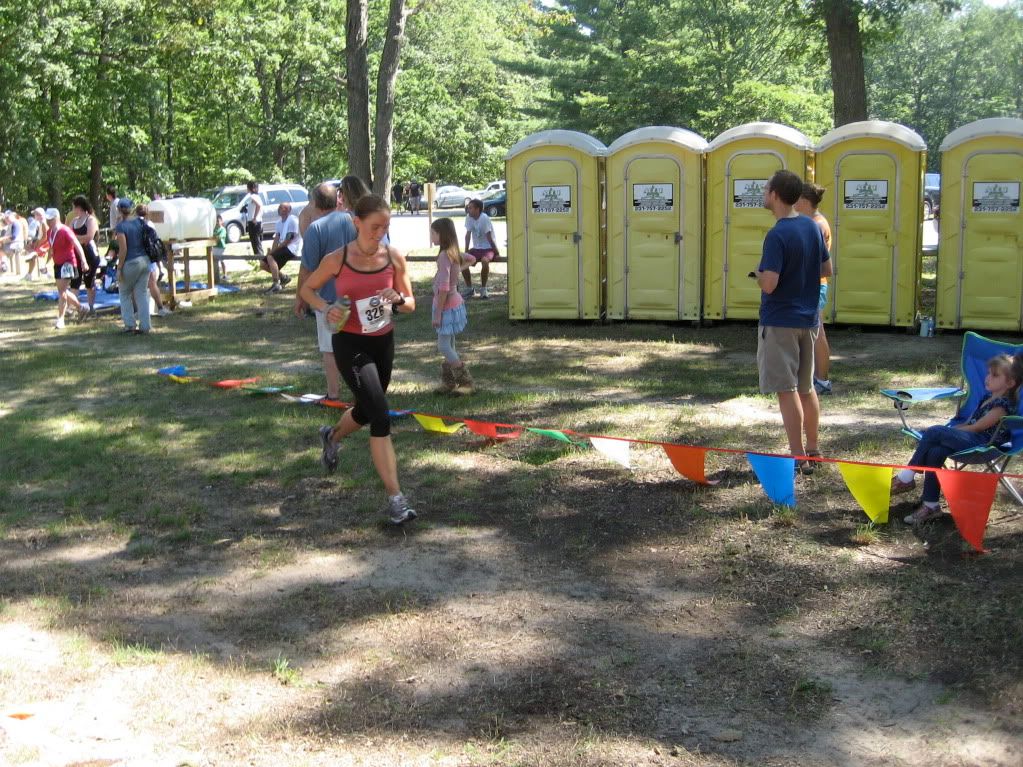 We spent that afternoon lazing around the trail head watching other runners cross the finish line while we ate food and drank refreshing liquids (of all varieties). Abby spent the time making friends with older children and smearing dirt on her face.
Finally bored of waiting for the prize announcements, we headed back to the lake to wash off the sweat and grime and relax.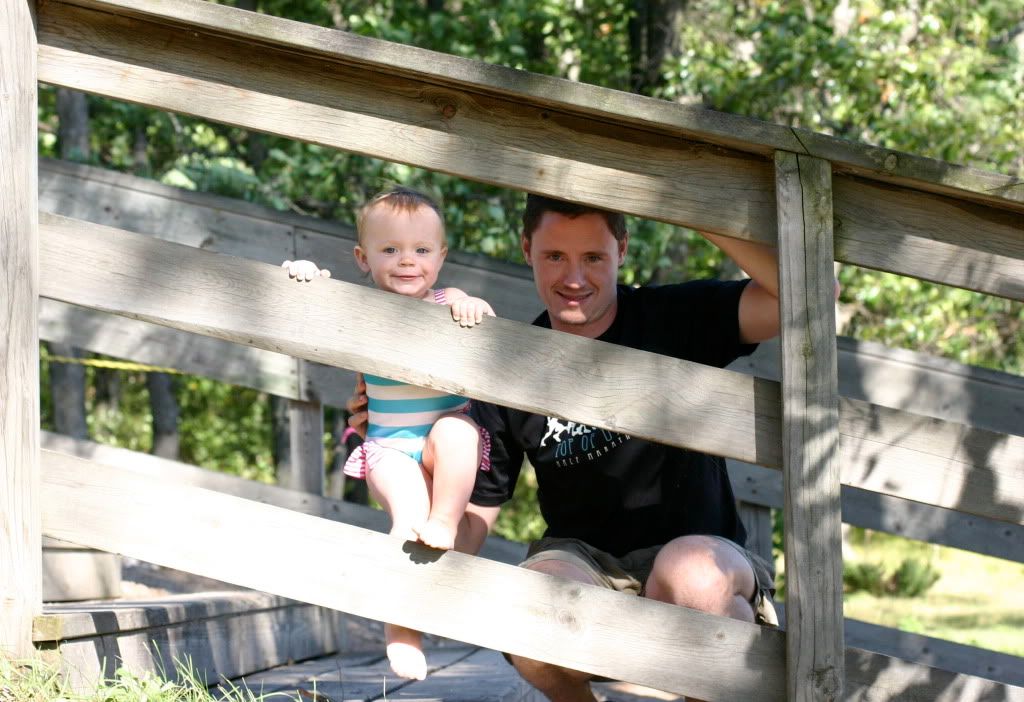 That night we had a wonderful bonfire in which we made S'Mores and around which we sat drinking beer. In the morning we ate blueberry pancakes and scrambled eggs and leisurely packed up camp.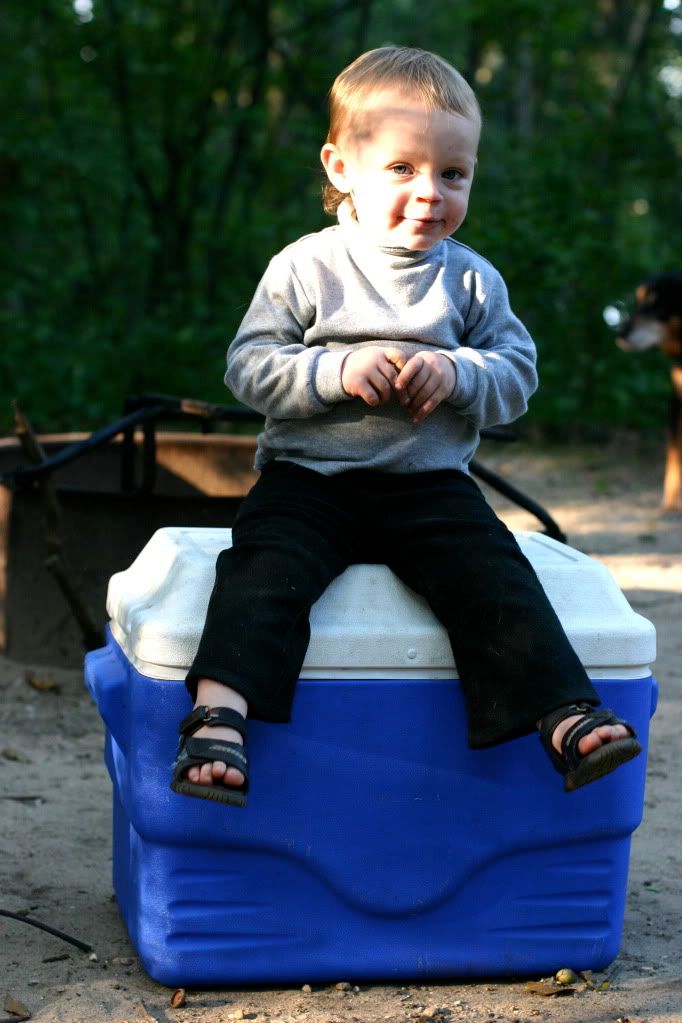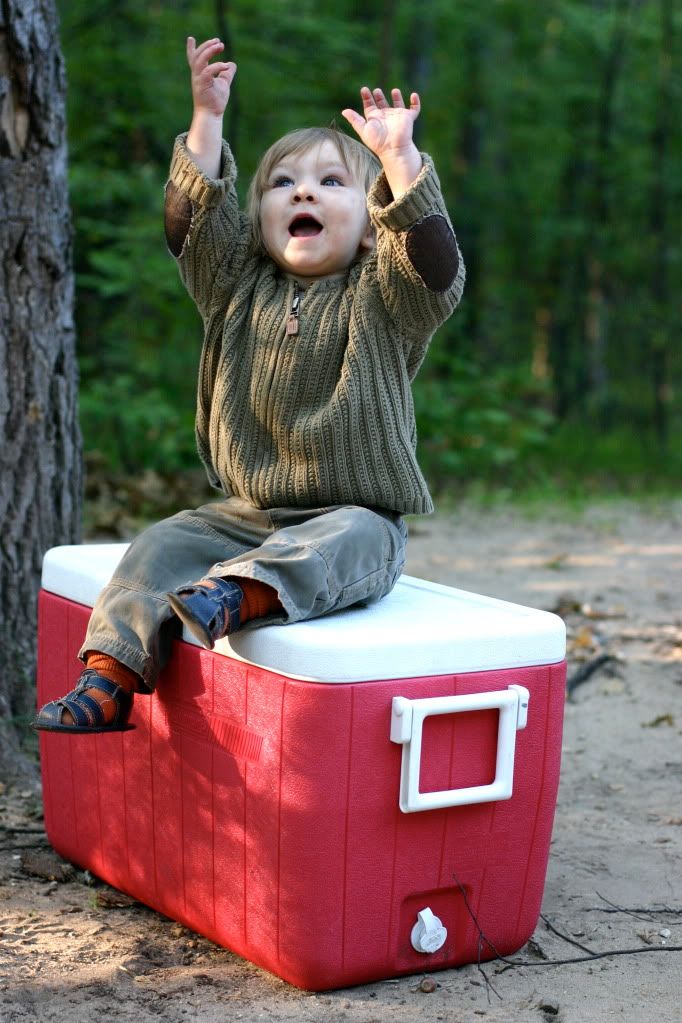 During the process of packing, Gail came over with her magical bubbles for the babies. They had so much fun with those bubbles!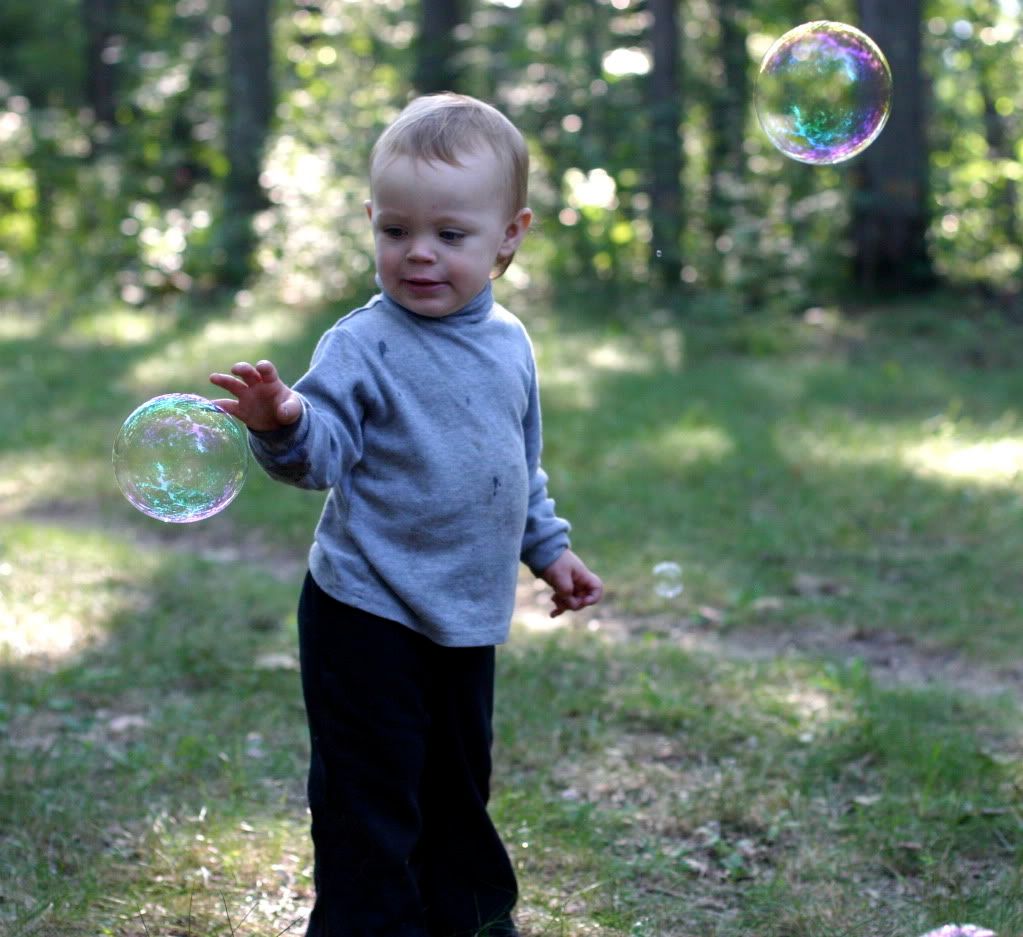 Before heading for home, we went up to see the Manistee River. We managed a 30 minute hike and then spent the rest of the time eating lunch and swimming in the river.
What a wonderful weekend. Minus the cramping.
Oh, and if you want to see more pictures, I'm posting the other hundred I took on facebook : )